Determine necklace chain length
What length do you like and suits you? Take a piece of rope, tie it together at the back with 2 loose
sliding buttons and slide it in such a way that you find the perfect length for yourself. 
You don't know how to make such a button necklace? Take a look at this video.
Can't get out?
Send me a text message, messenger or whatsapp and we will look at the possibilities together.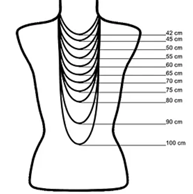 Certain lengths also have a specific name in the jewellery industry,
Collar, Choker, Princess, Matinee, Opera, Rope, Lariat …
Determine bracelet length
Take a piece of rope and put this on your wrist, this is your wrist size. Then measure with a tape measure or ruler after how long this piece was. If necessary, you can also do this with a strip of paper from an A4 sheet where you then put a line.  Of course you can also use the measuring tape. Do you like a tight-fitting bracelet?  Then this is your wrist size +1,5cm. Would you prefer a slightly looser fitting bracelet (standard)? Then it is your wrist size +2cm. Do you prefer a larger loose-fitting bracelet? Then it is your wrist size +3cm.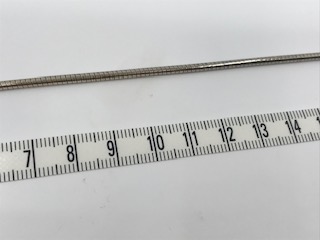 E.g. if your wrist is +/- 19cm and you want a loose fitting bracelet, then you do 19cm + 3cm = 22cm. Note: the finer your bracelet, the more beautiful it looks with a slightly smaller size.
Are you in doubt? Feel free to contact us by phone, sms, messenger or whatsapp message. Together we will undoubtedly find a solution!
​Annick 0496/51.06.13
www.designed4you.be
@sieradendesigned4you